Travellers visiting the northern province of Cao Bằng are advised to try out wild vegetables locally known as dạ hiến and ngót rừng (sweet leaf) for their special taste and aromatic flavour.
Locals sell the vegetables along a road. Photo baocaobang.vn
Dạ hiến, or phiắc diền in the Tày language, grow wild on the rocky mountains from the second lunar month to the seven lunar month every year.
La Thị Hiền from Cao Bằng's Trà Lĩnh District said in spring, the young shoots smell like fragrant mushrooms grown on hilly slopes, and she sends her family out to pick the wild vegetables.
"At the start of the second lunar month, we wake up very early in the morning and travel up to 15km to pick them. In the past they were scattered all over but now it's hard to find them due to the high demand."
At first glance, dạ hiến look like chayote tops, but they are much thinner," said Hiền, noting that her mother often cooked them with beef and eggs, or fry them with rice noodles.
Her family loves the dish so much that her mother cooks it weekly while they are in season.
"We're all addicted to it."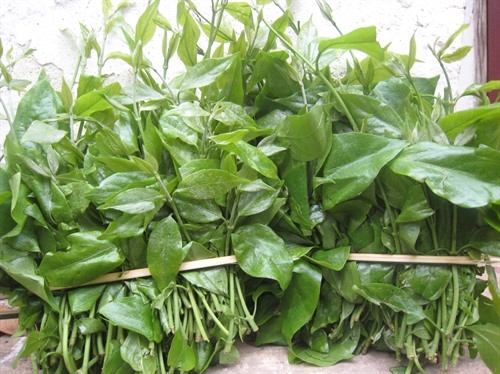 Ngót rừng (wild sweet leaves) is also Cao Bằng's specialty that is very tasty and delicious. Photo baocaobang.vn
These greens are seasonal vegetables and with the vegetarian movement becoming trendier in urban centres like Hà Nội and Hồ Chí Minh City, there is a big demand in both wholesale markets and restaurants.
Chefs tend to stir-fry them quickly to retain their crispiness, colour and natural fragrance. First-timers may mistake them for Thai-style noodles. On a bed of sauteed greens, chefs add stir-fried flat rice noodles with beef to make a full meal, or a fried egg to make a side dish to be eaten with rice.
"The dish is more tasty with garlic," she said.
Hiền said she often sends the vegetables as a special gift to relatives in Hà Nội and Paris.
Đặng Văn Quân from Hà Nội's Hai Bà Trưng District said he liked the dish because it reminded him of the rich fragrance of the mountains.
"I feel the essence of the spring and forests in this dish," said Quân.
Apart from the fragrant greens, travellers to the province can look out for ngót rừng (wild sweet leaves) cooked in a hot soup, often with white rice.
Most of the leaves grow wild on the mountains. It is often cooked with minced pork or shrimp to increase its aromatic fragrance.
A plate of dạ hiến fries with beef and rice noodle is among the most favorite dish of Cao Bằng people. Photo Hồ Hoàng
Trịnh Thị Ngọc from Hà Nội's Cầu Giấy District said her family often asked her to cook the vegetable with traditional Phú Quốc or Nha Trang fish sauce.
"There are no other wild or organic vegetables to compare with ngót rừng," Ngọc said.
Herbalist Nông Đình Thọ said ngót rừng was rich in protein and nutrition, and particularly good for pregnant woman because it helped to cool down the system and was full of diuretics and detox agents.
"I often use ngót rừng to treat measles, coughs and fevers in children," he said, noting the vegetable was a good way to reduce weight and hypertension.  
Meanwhile, dạ hiến is also a good tonic for the kidneys, tendons and bones, according to Thọ. They can found at Hà Nội's Luk Lak restaurant, which serves delicacies from all the northern mountainous provinces.
While hot soups are often used in the west as starters, it is common here to finish a meal with a tasty broth. In Cao Bằng or elsewhere up the mountains, a long meal with local corn wine is not complete without a burning hot healthy soup. — VNS