Gỏi củ hũ dừa (coconut core) salad is a specialty of Bến Tre, the home of coconuts in Việt Nam. Củ hũ dừa can be found in the tops of the trees, hidden inside the branches.
Kicker: A plate of tasty củ hũ dừa salad, the quintessence of Bến Tre. — Photo baocantho.com.vn
The core was covered by a thin layer of capsules, and it's sweet, fresh, cool and highly nutritious, especially in minerals, and it is good for the digestive system. 
Local elder Huỳnh Thị Nhung, who owns a coconut tree farm, said Bến Tre was famous for its coconuts and the dishes made from them. They include coconut core salad and coconut rice.
To make the salad, Nhung has to cut down a young coconut tree and remove the core, which is considered the heart of the tree.
She said ingredients for the dish (serves two) include 200g of coconut core, 100g shrimp, 100g bacon, 1 big onion, 1 carrot, 1 cucumber, 1 red chili, laksa leaves, roasted peanuts, 2 garlic cloves, 60g sugar, 80ml fish sauce, and 15ml lime juice.
The coconut core, carrot and cucumber should be cut into strips but not too finely to avoid them from losing their crunch. The shrimp should be steamed before being cut in two and the bacon is boiled and cut into thin strips. Then they are marinated in a bowl with fish sauce for 15 minutes before draining.
The next step is to make the main sauce which involves sugar, seasoning powder, chili sauce, ground chili, coriander and lime juice. They are added to the mix and topped with roasted peanuts and fried dried onions.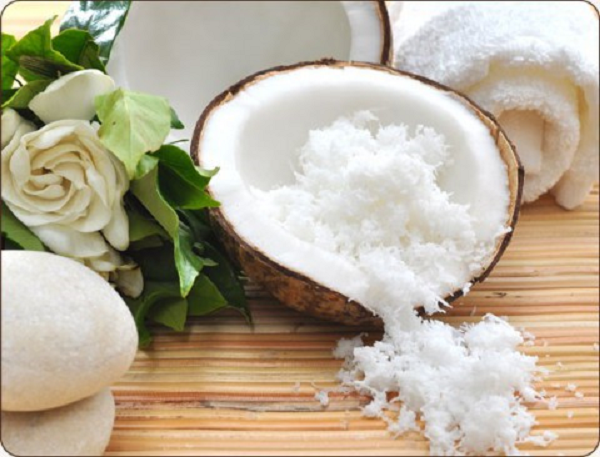 Kicker: Coconut can be cooked in many dishes such as cơm dừa. — Photo dienmayxanh.com
 
"The dish is more enjoyable with a spoonful of coconut milk and prawn crackers," she said.
Nhung's son, Nguyễn Văn Thành, who has moved to Hà Nội, said he missed the dish so much because he does not have time to return home due to work.
"Every time I go home and try the the dish made by my mother, memories of our peaceful childhood suddenly rush back.  We still respect the need to be united with our parents and our native home that produces the coconut core for the salad," Thành said.  

Cơm dừa (coconut rice)
Apart from the salad, Thành said his mother knows how to cook cơm dừa (rice cooked in a coconut).
Different from ethnic groups in the country's northwest where they bake rice in bamboo tube, Bến Tre housewives cook the coconut rice by steaming it in a pot to keep its natural fragrant flavour, Nhung said, noting that the dish had existed for hundreds of years.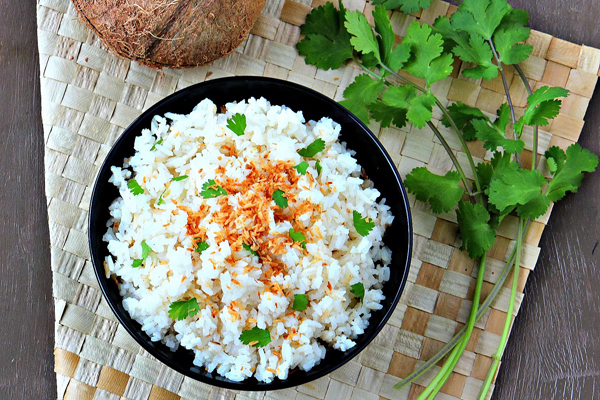 Kicker: Cơm dừa, a nutritious food,  is also among specialties cooked from coconut. Photo agarwood.org.vn
To create tasty coconut rice, Nhung said she had to choose quality fragrant and soft rice, locally known as gạo tám and dừa xiêm, which is small, fresh and green in colour with sweet juice.
The top of a coconut  is hacked off to release the milk, and set aside to use as a lid. The rice is then added and the whole coconut is steamed for an hour, Nhung said.
"The secret is how to pour the juice so that the rice is not too soft and not too hard. A professional cook can smell the fragrance from the steamer to decide if the rice is done," she said.
The rice is much more enjoyable when eaten with tôm đất (shrimp from a lake or a river) which should be stir-fried with fish sauce, sugar, onions and coconut milk to make the shrimp crispy, fatty and delicious, Nhung said, adding there were several ways to cook cơm dừa.
Nhung's young neighbour Hà Thu Hồng said she often cooked cơm dừa with chicken broth, but sometimes she used coconut milk, butter and garlic.
"My two daughters like cơm dừa so much because they say it makes their skin beautiful and reduces acne. They call it a specialty," Hồng said.  VNS